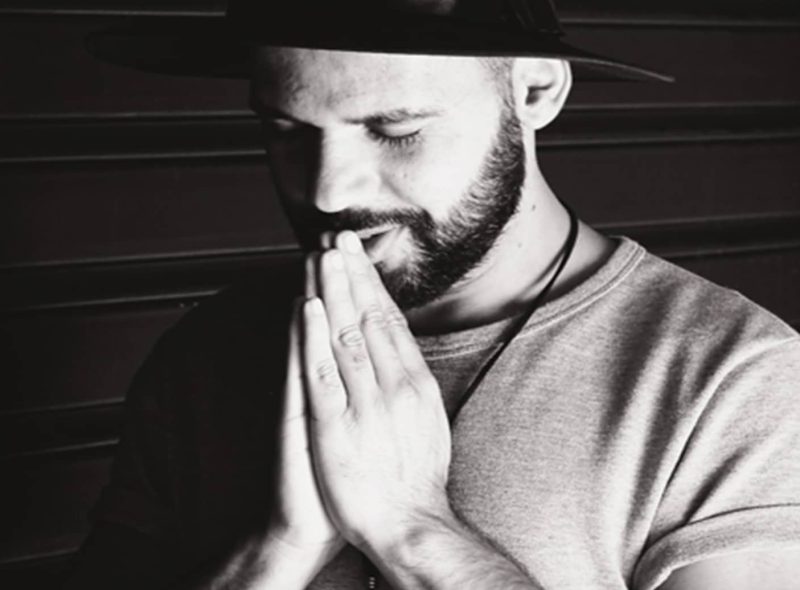 Driving into the village in dry weather, you can pull off the lane at the bottom of the valley and bump up a rough chalk track that swings conveniently round the back of the houses where John and Sylvia have lived for twenty years. In the wet, that's impossible. And you have to use the steep front steps up from the road. With arthritis in her knees, Sylvia finds these steps harder and harder to manage each winter.
Today, parked in the lane outside Sylvia and John's house, is a removals van. There's real sadness in the village.
Sitting outside yesterday in the drizzle and heatless late afternoon sun, Emma and I laid on a small, socially-distanced tea party for Sylvia and John and a couple of neighbours, just the six of us at three tables, and teenagers appearing in windows now and then – like an advent calendar, or a cuckoo clock – to say their goodbyes. There's grief in all this: it feels as though we're losing part of ourselves. In a way, we are.
In his Gifford Lectures given in the 1950s, the Scottish philosopher, John Macmurray (1891-1976) argues that
personal existence is constituted by the relation of persons.

The Form of the Personal, vol. 1, The Self as Agent, John Macmurray
The love we share with our neighbours constitutes us: it's not something we do; it's who we are.
Last Sunday, the Church – quite quietly – stepped across one of its liturgical borders or boundaries; Trinity Sunday, as it's called, is a hinge in the year: we've passed into what's called 'Ordinary Time.' I've always puzzled over what's meant by 'ordinary' here.
I think it has something to do with story. After Pentecost we reach the end of the story: the promised Holy Spirit has come and… we're on our own. There's another six months or thereabouts till Advent and the story of our redemption begins all over again. But for the time being, we feel we're somehow outside the story, on our own.
Both in their eighties, Sylvia and John feel they're on their own, surrounded by boxes, outside, looking down at the packed-up story of their lives. Where do we go now?
Story provides a structure, a plot for us to follow. Lent, Easter, Ascension suggested a sort of liturgical and scriptural framework for our experience of lockdown and the coronavirus crisis. We shared the journey of the disciples from anxiety and loss through hope to a sense of solidarity and purpose. Now the scriptural story is over, and today businesses are beginning to rebuild; our churches are reopening next week for private prayer. Schoolchildren are returning to their classrooms. This is a fork in the road. The extraordinariess of a story is giving way to the ordinariness of everyday life. No plot but events, no characters but ourselves.
But in truth the story does not end, and all time is extraordinary time.
That's the real meaning of Trinity. The doctrine of the Trinity tends to be seen as philosophical fancy footwork, a theological conundrum. What on earth does it mean for God to be Three in One?
I think it means everything, literally. The Trinity is a relation between persons. The loving relation shared by the persons of the Trinity constitutes God and as such it is the ongoing and overarching story of our lives, that in which we live and move and have our being.
On Sunday, Gerald reminded us of the story of Abraham and Sarah at Mamre (Genesis 18). It's a story about a married couple getting on in years, a tent, some bread baked by Sarah, a hurriedly prepared meal for guests. Ordinary, and yet God is marvellously present throughout.
Yesterday evening, Sylvia and John and friends sat and chatted with tea and cakes baked by Aggie, and by Mary from next door, we talked about the past fondly and about the future hopefully. Ordinary, and yet full of love: God marvellously present throughout.
You can choose to see a tent in the desert, some bread, visitors; you can choose to see a chilly June afternoon, cake, visitors. Or you can 'turn aside' and see the Kingdom of God which is among you. (Luke 17:21)
We tell stories; we're good at telling stories. But we're less good at recognising we ourselves are being told as stories.
And it's a love story.
---
All this week, as we prepare our churches to reopen for private prayer, I want to reflect on that passage from Genesis in which God visits Abraham and Sarah. It's a passage rich in what George Herbert calls 'Heaven in ordinary.' And in that sense, it sums up all we've been doing in these reflections from the beginning: looking for God in lockdown. Turning aside like Moses at the burning bush 'and looking at this great thing.' (Exodus 3:3)
And so it also seems the right time to change the pattern of the reflections. From Monday June 15, when the church doors open for the first time since March, we will be sending out reflections on Wednesdays and Sundays only.
I can't explain how much I've loved sharing these reflections with you all. I feel I'm moving house; at a fork in the road. Everything's in boxes. 'Fragile' and 'This Way Up.' God bless you all.
I want to share a song today that is incredibly precious to me. One of the great poets, I think, of the last fifty years, was Ian Curtis of Joy Division. Ceremony was the last song the band recorded just a few days before Curtis died in May 1980. The song became the first single released by New Order.
This is a slightly obscure cover of the song by Galaxie 500, from their 1989 EP Blue Thunder. I love this version because it captures something unexpectedly ecstatic, trancelike and joyful in Curtis's beautiful, beautiful words.
The tambourine coming in at 3'55'' and…
Heaven knows, it's got to be this time,
Avenues all lined with trees,
Picture me and then you start watching,
Watching forever, forever,
Watching love grow, forever,
Letting me know, forever.
Almighty and triune God,
by your Holy Spirit
grant us the curiosity of Moses
to turn aside to see You;
the eagerness of Abraham
to look up at Your approaching;
the boldness of Jacob
to wrestle with You till morning.
With them, weave each one of us into the one story
of your eternal Kingdom,
the gates of which were opened for us forever
by your Son, our Saviour Jesus Christ.
Amen