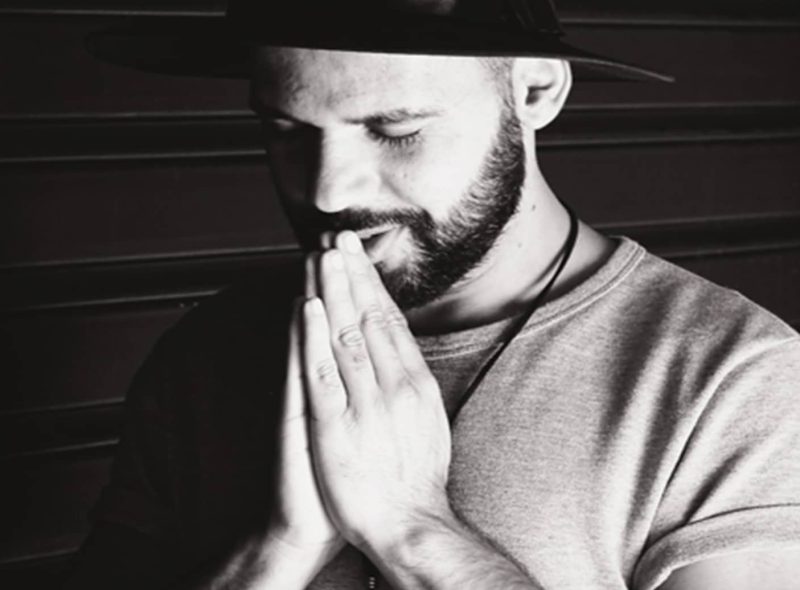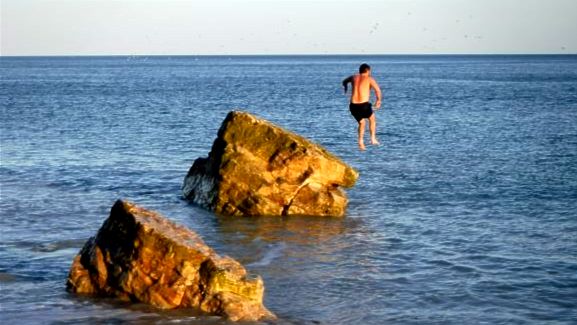 My good friend and colleague, Mark Windsor sent me this photograph the other day. He's jumping off a rock into clear blue air, bluer sea. And I ask myself: when was the last time I swam in the sea? I try to remember, and can't. So much has changed. A great wedge of change has been driven into our lives.
Even the sea has changed since I was last in it.
Heraclitus (c.535 BC to c.475 BC) famously said: You can't step into the same river twice.
What did he mean? Heraclitus is known as 'the dark' because he offers us these fragments, riddling aphorisms that are open to multiple interpretations, almost like Buddhist koans. He's most well-known for saying: everything flows.
The things that are are all flowing and nothing stands still.

Heraclitus quoted in Plato, Cratylus, 401d
Fascinated, Plato develops this idea. He argues that the world around us of endless change where nothing stands still is a flickering, torrential copy of a perfectly still, pure and eternal model. Our world is always appearing, always becoming; the world above is immutable Being, 'unchanging, uncreated and indestructible, admitting no modification, entering no combination, imperceptible to sight or the others senses.' (Timaeus 52a)
Mark is in mid-air, hanging between rock and waves. The camera captures a moment in the endless change. A slice. A second later, and splash. The world moves on, ever changing, never standing still. Our photographs are desperate screenshots of reality's rushing.
Tomorrow is Ascension Day. It marks the close of a time of tumultuous change. It is a leave-taking, but also a promise. And an opening onto a new stage:
And see, I am sending upon you what my Father promised; so stay here in the city until you have been clothed with power from on high. Then he led them out as far as Bethany, and, lifting up his hands, he blessed them. While he was blessing them, he withdrew from them and was carried up into heaven.

Luke 24:49-51
My grandmother read Bambi to me as a child. It haunts, that moment near the beginning when a shot echoes through the stillness of the snowy forest, and the fawn is suddenly alone. He searches for his mother but can find her nowhere. An older Stag, a prince of the forest, comes across him and says sternly, 'Your mother has no time for you now. Can't you stay by yourself?'
Grim moment. The cold sea rushing up to meet us.
The words of the stag, and the Ascension of Christ mark a change, and are are calls on us to change. We are left behind, with a new role to play.
I'm beginning to feel my way tentatively into a future. I'm looking up from my desk for what feels like the first time. Driving to a funeral yesterday through familiar towns, along familiar streets brought it home to me how change works always within a context: I measure the changes against the unchanged. What is different? What is the same?
Jesus Christ is the same yesterday and today and forever.

Hebrews 13:8
Look at the photograph of Mark again. There's something in that photograph that is so ever present, so essential to how we interpret the world around us that we don't even notice it. We're good at spotting change, difference, rocks, bodies; less well tuned to that which stays the same, never changes. Near or far, clear or confused – there's always a horizon. It is under this horizon of changelessness that our changing lives play out. The Lord does not change. (Malachi 3:6) So we have to.
The Holy Spirit which the Father promises is the same Spirit that drives Jesus out into the wilderness at the beginning of his ministry. It is the same Spirit that overshadows Mary at the Annunciation. Her response must be the model for all our responses to change:
Here am I, the servant of the Lord, let it be with me according to your word.

Luke 1:38
Here we are. And knowing the horizon is always embracing us, we leap from the rock… ready to be changed.
With valuable help along the way, I've been writing these daily reflections since we went into lockdown in March. Now, as the grip of quarantine eases slightly, I feel it's time to change gear – just a little bit.
I've loved sharing thoughts and prayers with you. And I'm incredibly grateful for your kind words and emails. I never intended or expected the reflections and prayers to reach beyond the borders of the Deanery, but now they're read all over the world. It's incredible. It feels as though the landscape around us has been changing, even as we stayed put, but it's a landscape through which we've been walking together. Here we are.
After Ascension Day, the reflections will go from seven days a week, to five. There won't be reflections from Pewsey Deanery on Saturdays or Mondays.
Do not be anxious about anything, but in everything by prayer and supplication with thanksgiving let your requests be made known to God. And the peace of God, which surpasses all understanding, will guard your hearts and your minds in Christ Jesus.

Philippians 4:6-7
May the God of peace bless you all.
Colin
---
I watch the ripples change their size
But never leave the stream
Of warm impermanence…
There is nothing new under the sun. (Ecclesiastes 1:9) Those lines could be Heraclitus, but they're not. I couldn't really have ch-ch-chosen anything else today.
God the horizon of all things,
the changeless ground of change
the beginning and the end,
you make all things new:
make us new.
Change our hearts of stone to hearts of flesh,
and through it all, hold us close in your Son
drive us on in your Spirit
that we may be bold to say with Mary,
Here am I.
Amen