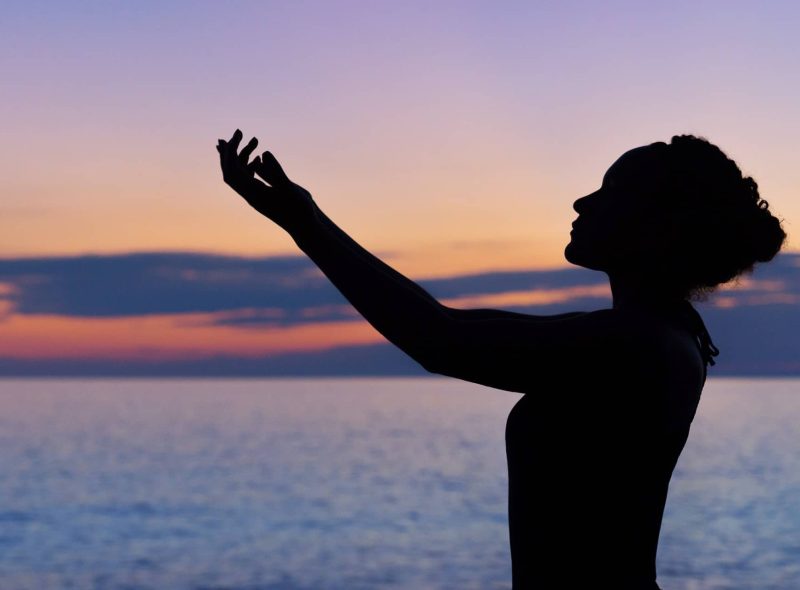 Off in the distance a storm flickers, as if the night's gone on the blink. And the sky is busy with bats. I'm out here to look for shooting stars – it's Perseid season – but I'm distracted by the storm, and climb the hill for a better view. Through air still hot, and thick with harvest dust, the towering blooms of cloud far to the north are intermittently lit up from inside – apricot and smudged ochre and amethyst.
It reminds me of an illustration in the first prayerbook I owned. My parents gave it me for my ninth birthday. I still use it regularly. One of the five or so colour plates included in the book, helpfully halfway through the Eucharistic prayer, is a painting of the Israelites at the foot of Mount Sinai worshipping the golden calf, a Baal, a god of Canaan. Up on the mountain, God's anger at their apostasy is depicted in flashes of lightning and tumbling dark cloud:
Now let me alone, so that my wrath may burn hot against them and I may consume them.

Exodus 32.10
Many years ago, I worked with my writing partner on a commission to adapt a novel by John Buchan for the screen. Famous for The 39 Steps and Greenmantle, Buchan is revered in Scotland, not for his thrillers and adventure stories, but for Witch Wood. Published in 1927, Witch Wood is set in the lowlands of Scotland during the seventeenth century. It's Buchan's best novel by a long chalk and concerns the plight of a newly ordained and idealistic young minister in the kirk. In a harsh landscape of forests and hills, cut off from surrounding communities by plague and snow and war, David Sempill finds himself called to a parish stewing in hypocrisy and religious sectarianism and superstition.
In an access of righteous fervour one of the local farmers utters this wonderful line:
"Let us see that there is no Canaanitish thing in our midst," Mr. Proudfoot cried, "for the purge of the Lord is nigh. And let Israel dwell in unity, for a house divided shall not stand."

John Buchan, Witch Wood, Chapter IX
Strict Presbyterians, Mr Proudfoot and his fellow Covenanters wish Scotland to be a theocracy, free of kings and bishops, a commonwealth under God and God alone. They see Scotland as Israel. And a Canaanitish thing could be a golden calf, a king, or a candle. No infringement of their code or their authority will be tolerated.
(By the way, 'Canaanitish' may qualify as my favourite adjective of all time.)
To think in terms, as Mr Proudfoot does, of Israel and Canaan is to divide the world up between right and wrong, friend and foe, in and out, us and them. So it's not unity, as Proudfoot believes; it's built on a binary view of the world. The language of 'Canaan versus Israel' is the language of simplistic, bordered thinking. And that border between Israel and Canaan runs through all our lives, our communities, our politics, our hearts, if we let it.
In the district of Tyre and Sidon, when Jesus encounters a Canaanite woman pleading for him to cure her daughter, he first ignores her and then says, 'I was sent only to the lost sheep of the house of Israel' (Matthew 15.24). When she continues to beg him to help, he snaps at her:
It is not fair to take the children's food and throw it to the dogs.

Matthew 15.26
'Yes, Lord,' the woman agrees.
Yet even the dogs eat the crumbs that fall from their masters' table.

Matthew 15.27
In the passage immediately preceding this exchange, Jesus has upbraided the Pharisees for putting their traditions, their rituals and their purifications before the commandment of God. They teach 'human precepts as doctrines' (Matthew 15.9). In short, they have put their faith in idols of their own making. Who are the Canaanites now?
And the disciples themselves have consistently failed to respond faithfully to Christ in their midst: they have not understood how a few loaves can be shared with a multitude; Peter's faith falters when he steps out of the boat to join his Lord on the lake.
But here, this woman, a gentile, outside the faith tradition, rebuked and rejected is able to respond boldly and faithfully, undeterred. To Peter, as he's about to sink under the waves, Jesus says 'You of little faith!' but to the Canaanite woman he says, 'Great is your faith!'
Where now is the border between Israel and Canaan?
At the end of Witch Wood, David Sempill is excommunicated at a rigged trial on trumped up charges. His friend stands before the 'righteous' congregation and accuses them of being Pharisees.
"It's nothing but a bairn's ploy," he cried, "but it's a cruel ploy, for it has spilt muckle good blood in Scotland."

John Buchan, Witch Wood, Chapter XXI
It's spilt much good blood the world over: our faithless tendency to label and divide ourselves, to think of Israel and Canaan. What Jesus and the Canaanite woman together reveal is the truth behind the bairn's ploy, behind the lies of politial rallies and headlines, behind our own prejudices: there is no Canaan, no outside, no border, apart from that which we draw, not just on our maps, but in our hearts, and between ourselves. Over and over again.
We need to learn to live by the words of the Canaanite woman. So, I urge you: put this Canaanitish thing in your midst:
Have mercy on me, Lord, Son of David!
Lord, help me!
Yes, Lord.
---
Tomorrow I'm going away for a fortnight and the reflections from Pewsey Deanery will be on pause until Sunday September 6th. It would be impossible to express how much I've loved sharing these reflections and prayers with you all during the last few, strange months. I hope they've been of some use, and will continue to be so as we head faithfully into autumn.
Until September – God bless you all.
Colin Heber-Percy
---
As the Promised Land, the land of milk and honey, Canaan is always beyond, over the next rise. Or across the river. Joshua leads the Israelites out of the desert and into Canaan over the river Jordan (Joshua 3).
'Over Jordan' is the first track on Papa M's 2001 album Whatever, Mortal. Papa M is the solo project of David Pajo, a Texan who grew up in Louisville, Kentucky. Sometimes it feels as though Pajo is either directly or indirectly related to every single loved record I happen to pull off the shelf. He was a founder member of Slint; he was in Stereolab and Tortoise and Royal Trux. He's a lynch pin. At the heart of his music is a melodic sense – often expressed on a guitar – that seems somehow essentially American.
'Over Jordan' is a country song, full of the desert, tribulation, loss and longing for home, to cross to Canaan, the Promised Land. This song is a prayer.
Almighty God,
lead us over the Jordan,
that may we enter a land
which doesn't belong to us,
but to which we belong:
your eternal kingdom.
Redeemer God,
teach us to put Canaan in our midst:
not idols of our own making,
but the faith of the woman who cries
out to the Son of David:
the key to your Kingdom.
Sustainer God,
strengthen us to tear up what divides us,
to find sisters and brothers in strangers,
to abandon doctrines that are just human precepts
and to prove ourselves steadfast and faithful
to the values of your kingdom.
A M E N